---
As social media expert Jeff Bullas says, "Growing your Facebook Likes is social media's version of building the traditional email subscribers list."
A "Like" on your Facebook Page is not just a vanity metric. It signifies a real person showing interest in your business. That person has opened a 24-hour-a-day, 7-days-a-week communication channel with you. So yes, this is a very powerful thing in online marketing.
Facebook allows you to keep your customers warm in a friendly, non-invasive way. There are only so many times a person will shop at your store in a month or year, depending on your industry. Even promotional emails with 10% off coupons can become tired and end up in people's spam folder over time. So, to keep a person engaged between purchases, Facebook posts are key.
This article will give you the 7 best practices to generate Facebook Likes, both on the platform and off it.
Don't fret if you're just starting. These methods apply to both advanced users and newcomers. If you'd rather read this article as an ebook, you can download it right here: The Ultimate Guide to Increase Your Facebook Likes.
Here are the 7 Top Ways to Increase your Facebook Likes…
Method #1 to Increase Facebook Likes: Contests
---
Facebook contests are the easiest way to get people excited and draw new users in as Fans. The lure of a big prize (one that's relevant to your specific target market) makes it an easy ask for your target customers to also "Like" your Page and become your Fan.
How does a contest get people to "Like" your Facebook Page and become a Fan?
Many people think that without the Like-gating feature (deprecated in 2015), contests are no longer useful in generating Likes, but that's not true. A contest still engages users, educates them on your brand, and makes them want to gain access to win more valuable prizes down the road. The fact that a user is on your Page shows they are interested in your brand. If they are willing to go through the effort of filling out a form, they're someone you're going to want to build a relationship with.
A "like" popup is our solution to the recent extinction of like-gating. It involves a simple popup appearing on page when a user arrives at the contest tab of your Facebook Page. The popup politely asks users to "like" your page so that they can stay connected in the future. It's no longer a requirement of entering the contest, but if users are genuinely interested in your brand it will be an easy decision to say yes.
The popup is just one more way to grab those who are already interested in you at the right moment. A perfect example of a "Like" popup can be seen below from Adventure Canada.
Check out an example of a "Like" Popup below from Adventure Canada: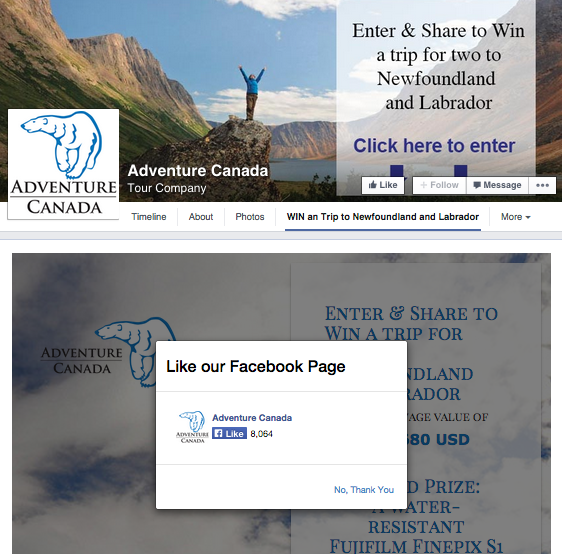 Get started with Wishpond's Pop up Builder today!
Method #2 to Increase Facebook Likes: Coupons
---
Coupons are a great (and ever-green) promotion. Something small like a 10% off coupon gives people an incentive to buy while keeping your margins (relatively) intact. The optimal way to use coupons though is to have them require an action to access them (that does not require much work).
Wishpond's Coupon App and Group Coupon App make it easy to create a Facebook coupon with built-in coupon codes and a "like" popup.
A good Coupon App makes it easy for you to create your own coupon directly on Facebook. Having a coupon on Facebook makes it super easy to share, as many 3rd parties (yup, like Wishpond), enable you to select the option to autopost to participant's Walls. That is, when someone participates to get your coupon code, a post is shown on their Facebook Wall, inviting their Friends to take part in your coupon offering too.
Just like with the Facebook Contest App mentioned in the previous section, you can add a "Like" popup to your coupon, as seen in the example below.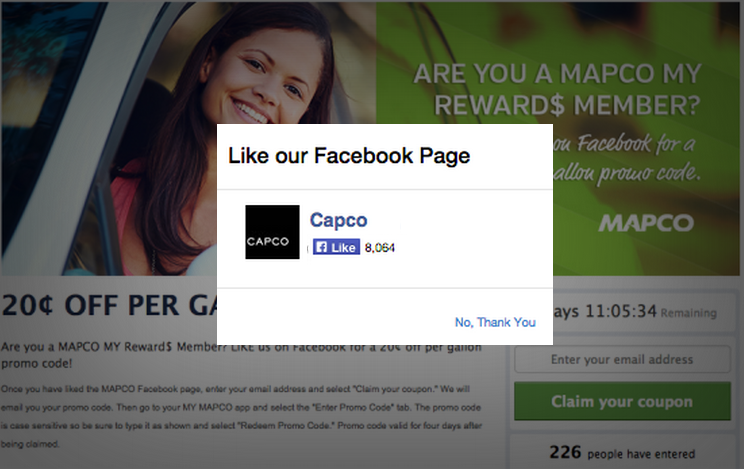 One easy way to drive traffic to your coupon with your "like" popup is to add a call-to-action in the header of your website. Promoting your coupon on your website is a great idea as website visitors are obviously interested in purchasing from you, so a free coupon will be very enticing to them. And as they're already showing interest in your business, they are perfect people to have Like your Page and engage with. Check out an example of this below:
Method #3 to Increase Facebook Likes:  Ebook "Like" Popups
---
Sometimes educational content is a better incentive for a like than a discount offer or prize, depending on your industry or target market. For B2B companies especially, providing free written content such as ebooks and whitepapers can drive tons of new Fans and customers.
Many ebooks will have a download [landing page(http://www.wishpond.com/landing-pages) housed on a website that includes a form you must fill out to access the ebook. By housing the ebook download inside of a tab on your Facebook page, you can also increase your Facebook Likes with a "like" popup. If they're interested in downloading your ebook, chances are they're interested in your business and industry posts in the future.
Hosting your ebook directly on your Page helps to improve the conversion rate of yourFacebook Ads. Studies have shown that Facebook Ads that link to Pages within Facebook result in a higher conversion rate than those that link to pages outside of Facebook. This is because visitors to your Page see a Facebook Like as less invasive than their personal information or email address.
Check out an example below of a typical Facebook Like Popup that we use for our ebooks on the Wishpond Facebook Page: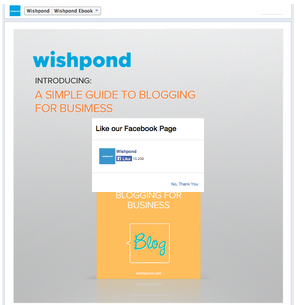 Method #4 to Increase Facebook Likes: Facebook Ads
---
Facebook Ads are the easiest way to increase your valuable Facebook Likes. Why? Because you're guaranteed visibility of your brand to a highly targeted audience.
A Facebook Ad allows you to target really specifically, ensuring that only your target demographics see it.
One key thing to remember though is that Facebook Ads are not the same as Google Ads. This is because your Google Ad appears when a person is actively searching for your keywords. They are more likely to want to know about your specific offering at that specific time – eliciting a click on what is most relevant for their search (the ad).
This isn't the case for Facebook Ads though.
A Facebook Ad appears while a person is just browsing around on their News Feed, so they most likely won't have the intent to purchase your products at that time. This means you need to provide an incentive to drive clicks on your Facebook Ads. You can provide a good incentive by using the three methods discussed above: contests, coupons and ebooks.
I've found the most success using images of people. Studies have shown that an image of a person (particularly a smiling woman) is more eye-catching and converts better than anything else. It's more subtle than a big red arrow, and gets a higher click-through rate.
Want to learn more about  Facebook Ads? Check out the 2016 Facebook Ads Guide. (It's FREE!)
Method #5 to Increase Facebook Likes: Add a "Like" button or box to your blog
---
A great strategy for capturing visitors on your blog in a fairly non-invasive way is to get them to Like your Facebook Page. Many people are averse to signing up for emails due to spam, so a Like can be an easy alternative.
To help with conversions, make Liking easy for them. Don't make visitors go to your Facebook Page first to Like you by only providing a link to your Page. Allow them to Like your Page right there from your blog using one of Facebook's social plugins, such as the Facebook Page Plugin or a Like Button. Making it a single step versus a two-step process will dramatically increase your conversion rate on this simple action.
And the Page plugin can be easily edited to fit the styles of your blog – here is how the box looks on socialmediaexaminer.com:
Download the Like Box plugin for yourself!. Facebook makes it super-easy by giving you a simple piece of code to copy and paste into the HTML of your blog.
Method #6 to Increase Facebook Likes: Add a "Like" button to your Website's Header
---
Having a Like Button in the top-right or left corner of your website is an easy way to drive new Likes over time. For a number of our clients, this has been a constant driver of new Likes every day. It won't get you a ton of Likes all at once, but having it there doesn't hurt anything, and over time those Facebook Likes add up.
I recommend adding a Like Button to your header in an easy-to-see position with a simple call-to-action, such as "Like us to hear about Facebook-exclusive contests and deals." This allows you to keep it up in perpetuity and not have to worry about updating it every week or two. It will also keep from conflicting with any contests or coupons you promote on your website.
Check out an example below:
Method #7 to Increase Facebook Likes: Video Like Popups
---
Behind-the-scenes, interviews and live event videos are a great incentive to get new Facebook Likes. Just like ebooks, coupons and contests, you can place a "like" popup straight over top of these videos to capture new Fans.
But these can't just be any videos. These need to be first-time, behind-the-scenes exclusives that you can't find anywhere else. Here are a few examples that make for great exclusives:
Videos from backstage at events
Exclusive video webinars with high-profile influencers
Exclusive how-to guides for your product or service
Why does the content need to be so special?
People can watch videos anywhere, so these need to be particularly interesting in order to earn the Facebook Like you're asking for. By engaging potential Fans with something new and exciting they're much more likely to say yes as they'll want to see more in the future.
The Miami Heat have created an entire Fan Zone in the Tab on their Facebook Page. It includes videos, photos and more of interviews and behind-the-scenes looks at Heat players. Check it out below:
Want to learn more about  Facebook landing pages? Check out our Complete Guide toLanding Pages. (It's FREE!)
Conclusion
---
There are tons of stories of brands getting thousands of new Facebook Likes overnight. This isn't the norm. For the majority of businesses without a huge advertising budget or traditional distribution, increasing your Facebook Likes takes time.
By using all of the hooks above, you can make sure to have a call-to-action for every traffic touchpoint (from your Facebook Page to your website and blog) and every type of incentive (from exclusive content to free prizes).
Learn more about Wishpond's Facebook Contests Apps to see how you can use them to increase your Facebook Likes. Try one free for 14 days.
Sign up for your FREE, personalized demo today! Our super awesome team will walk you through how your business can benefit from our online marketing system.
Source: blog.wishpond.com/
Recommended Posts
May 21, 2020
Call Now Button