---
Google Analytics
What does Google Analytics have to do with improving the quality of your blog content?
Most people think about this tool as one that can provide analytics data, such as the number of visitors to a website, top sources, top keywords, and the like.
But remember, some of this data can be used to help you create higher quality content.
An example of this would be to examine the most visited pages of your blog over the past month. You can do this by navigating to Behavior then Site Content then All Pages.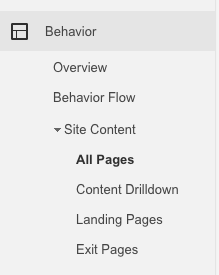 Once you're here, change the search to display results for the past month. From there, you can review the results.
The top pages are listed in the left column, with other columns showing the following data:

Now that you have a better idea of what your audience is interested in, you can create content around similar topics.
Take for example a top post entitled "Top Twitter Marketing Tools for 2016."
If you know your audience enjoyed the subject and quality of this post, your next title could be something like "Top Twitter Advertising Strategies for 2016 and Beyond."
With the help of Google Analytics, you can use past data to create high quality blog content in the future.
Recommended Posts
May 21, 2020
Call Now Button